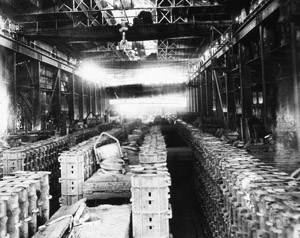 The Griffin Pipe Products Company site has a long history. Since the late 1850s, this location has been home to leading iron product manufacturers. These iron products, especially pipes, were necessary for the safe, reliable handling of drinking water and sewage. These pipes have played a critical role in the development of large and small cities here and abroad.
Richard Jones established the Florence Iron Works in 1857 and operated the company until 1861. In 1867, Richard D. Wood and three partners purchased and enlarged it, doubling plant capacity and renaming it R. D. Wood & Co. Prior to buying Florence Iron Works, R. D. Wood owned and operated the former Cumberland Furnace in Millville, New Jersey. Wood's Millville company owned 20,000 acres and was instrumental in the development of the city. Cumberland Furnace made stoves and iron posts for gaslights in its early days, and then shifted to the production of pipes.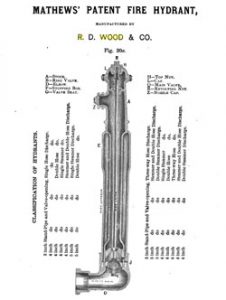 As it had done in Millville, R.D. Wood & Co. became a driving force in the development of Florence, which began in 1849 as a real estate venture, known as the Florence City Company. Though R. D. Wood died in 1869 and his partners withdrew from the company in 1872, the company continued the name under new ownership, which included members of Richard Wood's family.
n the early 1870s, the R. D. Wood & Co. negotiated an agreement with the Camden & Amboy Railroad to build a spur line to the plant. The company supplied most of the water and sewer pipes that serve Florence today. R. D. Wood & Co. also exported its goods. Much of Paris, France is still outfitted with pipes produced in Florence.
The company was generous with its employees and the community. It built at least 125 employee houses and R. D. Wood built his own residence near the foundry. In 1882, the ironworks covered 15 acres and employed 275 people. It had a production capacity of 75 tons per day and produced water and gas pipes, fire hydrants, valves, and other goods. The first cast iron pressure pipe in the United States was manufactured here.
By 1934, the Wood family no longer controlled the company. Amstead Industries, of which Griffin Pipe is a subsidiary, acquired the R. D. Wood Company and this site in 1962. Today, the Griffin Pipe site encompasses 218 acres and supplies New England and the mid-Atlantic region with ductile iron pressure pipe for potable water transmission and wastewater collection.
For more information:

Banner art: Circa 1890 photograph of original pipe foundry at Florence N.J. Credit: Hagley Museum and Library