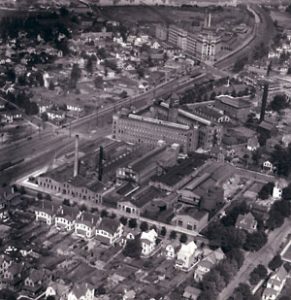 Riverside is located at the confluence of the Delaware River and Rancocas Creek, an important interior waterway since prehistoric times. Once a bustling industrial center, today it is primarily residential and has a diverse population of around 7,000. It is a compact town with an area of less than two square miles.
Enterprising European immigrants developed and transformed Riverside. Like many neighboring towns, it began as a real estate venture in the mid-1800s. In 1850, this was a sparsely populated settlement of squatter farms known as "Goat Town". By the 1840s, steamboats and the railroad put this remote corner of Burlington County within easy reach of Philadelphia. Entrepreneurs in search of cheap land soon took notice. One of them was Philadelphia land broker Samuel Bechtold, who bought large tracts of farmland. Bechtold wanted to create a river resort that would attract the growing steamboat excursion trade and city residents escaping the oppressive summer heat. A natural promoter, he named his new town "Progress," mapped out lots, and built a wharf and hotel.
In 1867, "Progress" was renamed Riverside. Its fortunes changed, however, when railroad connections were built to the New Jersey coast in the 1870s and summer tourism shifted to the Atlantic Ocean. Riverside's resort-based economy withered and contemporary accounts describe a raw, disorderly frontier settlement.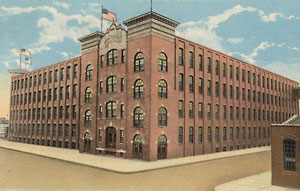 In the 1880s, prospects brightened as the local economy gradually transitioned to manufacturing. Manufacture of woolen and worsted textiles became an important regional industry, and by the late 1880s, hosiery knitting mills were Riverside's largest employers. Local German-American businessman William F. Taubel, dubbed by trade magazines "the hosiery king", became one of the nation's largest manufacturers of women's stockings. The William F. Taubel Hosiery Company, headquartered in Riverside, operated 33 factories in the eastern U.S.
Riverside's location and industrial potential attracted another visionary entrepreneur, a young Swiss-German immigrant named Theophilus Zurbrugg. Zurbrugg moved his watchcase manufacturing business from Philadelphia to Riverside in 1892. The Pavilion, the town's original resort hotel, became his new factory. In 1897, as sales expanded, he added a metalwork facility to supply raw material for cases and specialty white metals to other manufacturers. Zurbrugg recruited widely and offered employment to women and African-Americans in an era when good employment opportunities for them were limited. He also built low-cost housing and subsidized transportation for employees. A savvy businessman Zurbrugg bought many competing firms; his "Keystone combine" became one of the largest watchcase manufacturers in the world. Keystone dominated the U.S. market and exported its wares to Europe and Asia. The company's huge market share and aggressive sales tactics led to many lawsuits and a federal antitrust case.
Riverside's founder was of German descent, and he shrewdly targeted advertising to Philadelphia's large German population. For many decades Riverside's cultural and social life reflected their heritage. Leading institutions included a Maennerchor (choral and social society), a gymnastic and athletic club (Turngemeinde), and a well-known German beer garden that featured bands and choral concerts. Sermons were preached in German at Lutheran and Catholic services.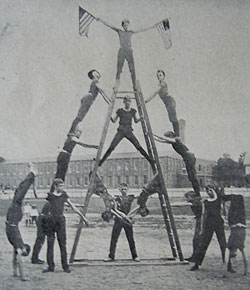 After many profitable decades, by 1940 Riverton's two leading consumer products had become functionally obsolete. Wristwatches were introduced in the 1920s and the market for pocket watches soon dwindled. Nylon hosiery went on sale in 1940, ushering in a new era of synthetic fabrics. The Taubel Company failed and the watchcase factory closed its doors for good in the 1950s. The last manufacturing tenant left the site in the 1970s. Contaminated sections of the "golden triangle" occupied by these industries were subsequently designated as 'brownfields.' With the arrival of the Trenton-Camden light rail River Line, the area is proposed for redevelopment as a commercial–residential "transit district." One proposal is to convert the Keystone building into apartments and commercial space. The Taubel mill was razed and is to be replaced by condominiums.
For more information:
Banner art: The impressive facade and clock tower (c.1908) of Riverside's signature building, the Keystone Watch Case Company Headquarters. The building is listed in the National Register of Historic Places. Credit: Greatrex Images