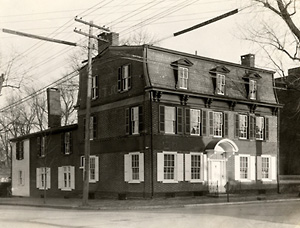 This handsome Georgian style mansion was the Bordentown home of the illustrious Hopkinson family. It is designated as a National Historic Landmark, but is still privately owned. The first Hopkinson to live here was American statesman and man of letters, Francis Hopkinson. Born in Philadelphia, Francis Hopkinson (1737–1791) was the first graduate of the the University of Pennsylvania. After graduation he read law under Benjamin Chew and continued his legal training in England.
Over his life, Hopkinson held a number of government posts in New Jersey and Pennsylvania. He was a member of the New Jersey Provincial Council and was elected as a delegate to the Continental Congress in 1776. He was one of five New Jersey men who signed the Declaration of Independence. During the American Revolution, he served as chairman of the Navy Board, a judge of the Admiralty Court and treasurer of the Continental loan office.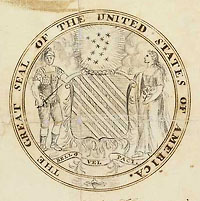 After the end of the war, Hopkinson was an eloquent advocate for the new Federal constitution and was a member of the Constitutional Convention in 1787. He was one of the designers of the first flag of the United States, the original "stars and stripes", as well as the Great Seal of the United States. He ended his public career as a federal district court judge in Pennsylvania.
In addition to his public service, Hopkinson was an inventor, translator, essayist, poet and political satirist. He was also an accomplished amateur musician and composer. He gave public harpsichord concerts in the 1760s and 1770s, played the organ and compiled tune books for congregational singing. He also composed songs, including My days have been so wondrous free (1759), the earliest surviving American secular composition. An amateur scientist, he designed a floating lamp, a spring block to assist sailboats, and an improved method of gassing ascension balloons.
Hopkinson's ties to New Jersey came through his marriage in 1768 to Ann Borden, the daughter of Judge Joseph Borden. They moved to this spacious brick house built in 1750. Their son Joseph Hopkinson (1770–1842), was a Congressman, lawyer and jurist. Joseph Hopkinson was also a close friend and legal advisor to Bordentown's most celebrated nineteenth century resident, Joseph Bonaparte. Hopkinson edited the first American edition of Shakespeare's plays and wrote the words to Hail, Columbia (1798), a popular patriotic song.