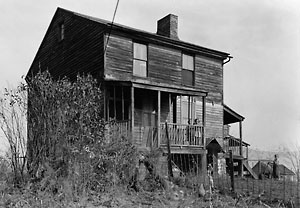 Created in 1688, Mansfield Township is one of the original townships in Burlington County. The township was incorporated by the state in 1798 and until the mid 1800s encompassed Fieldsboro, Bordentown and Florence townships. Mansfield is bordered on the west by the Delaware River. It now contains slightly more than twenty-three square miles of mostly agricultural land. The first European settlers, English Quakers, arrived in 1677. They were attracted by the fertile soil, plentiful water, expansive forests of oak and chestnut trees, and easy access to the Delaware River. Mansfield reportedly was named for a market town in Nottinghamshire.
Agriculture has long been the prime economic activity but its citizens have been active in many different areas of manufacturing and commerce, including development of some of the state's first railroads. Two of the township's best-known historical figures are Colonel Israel Shreve and Oliver Cromwell, an African American farmer, who were with the Second New Jersey Regiment of the Continental Army. Both fought in many of the American Revolution's most important battles. Henry Miller Shreve, the son of Israel Shreve, became a successful steamboat designer and entrepreneur. In 1826, as American began its westward expansion, he was appointed to the challenging post of U.S. Superintendent of Western River Improvements. Shreveport, Louisiana is named for him.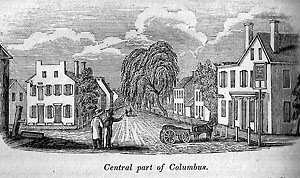 Columbus is the largest town; other settlements are Hedding, Georgetown, Mansfield, Mansfield Square and Kinkora, known originally as Biddle's Landing. The township's first schoolhouse, built by the Society of Friends around 1786, was in the village of Mansfield.
In December 1776, Continental soldiers engaged British and Hessian soldiers at a bridge over the Petticoat branch of Assiscunk Creek near Columbus. Columbus was originally known as Encroaching Corners because of contested property lines, and later as Black Horse. The name was changed to Columbus in 1827. Columbus became a thriving village in the nineteenth century; it had a large canning factory and was a station on the Delaware and Atlantic railroad, an early rail line succeeded by the Kinkora branch of the Pennsylvania Railroad. In the nineteenth century the town was an attractive summer residence for Philadelphians escaping heat and disease. It is now the center of a large retirement village.
Mansfield Township is still primarily rural, with a population of about 7,000. A number of key roads including Interstate 295, Routes 206, 130 and 68 cross the township. The former Kinkora railway corridor in Mansfield Township will be developed by Burlington County for its cross-county Kinkora Rails-to-Trails project, which will extend from the Delaware River to the Rancocas Greenway in Pemberton.
For more information:
Banner art: Mansfield Township Friends Meeting House, 1812. Credit: Greatrex Images