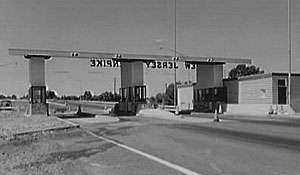 Bordentown Township was incorporated in 1852, twenty-five years after the village of Bordentown became a borough. The township was formed from portions of neighboring Chesterfield and Mansfield Townships. The early European settlers were farmers, and the township remained primarily agrarian until well into the twentieth century. Farmers here grew field corn and soybeans and operated dairies. Route 206 had its origins as a farm-to-market road.
Agriculture remained the dominant economic activity until the 1960s. However, the area's rural character began to change in the early 1950s when the New Jersey Turnpike was built through the township and residential development increased. Bordentown, which is exit 7, was part of the very first segment of the turnpike which opened in November 1951. In the 1970s, another major highway corridor, Interstate 295, was built through the Township to its then terminus at US 130.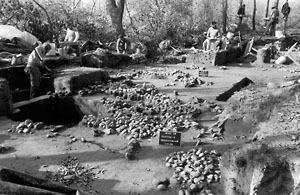 Bordentown's long history is closely linked to transportation, largely due to its strategic location midway between Philadelphia and New York. The township's development has been greatly influenced by its proximity to many important modes of transport. These include the Delaware River, the Delaware and Raritan Canal, the Camden and Amboy Railroad, today's light rail River Line linking Camden and Trenton, and the many roads and highways that pass through the township.
Bordentown Township has nationally significant historic resources. The Delaware and Raritan Canal State Park and the Camden and Amboy Railroad Main Line are linear historic districts listed in the National Register of Historic Places for their contribution to the history of transportation. The township also has important prehistoric archaeological sites near the fall line of the Delaware River and several nearby creeks. They include the Mile Hollow Prehistoric Site, Black's Creek Prehistoric Archaeological Historic District, and part of Abbott Farm Historic District, one of the most famous archaeological sites in the eastern United States. The area around Abbott Farm has been investigated and written about for more than a century and was at the center of an early debate about human occupation of North America. The many prehistoric sites in the immediate area have provided valuable information about more than 8,000 years of Native American culture in the Delaware River Valley and given us a better understanding of the interaction between prehistoric peoples and their environment.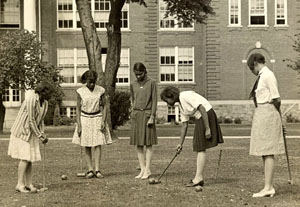 The former New Jersey Manual Training and Industrial School for Colored Youth is also listed in the National Register of Historic Places. The school is located on the estate once owned by Commodore Charles Stewart, who commanded one of the navy's most celebrated ships during the War of 1812. A minister of the African American Episcopal Church founded the school to offer both academic and industrial training to African American children. The state of New Jersey assumed control of the institution in 1894 and operated it until 1955 as a racially segregated boarding school.