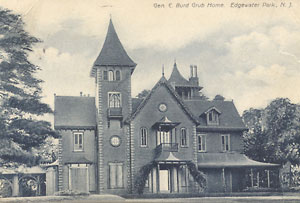 Prior to 1924, there was no Edgewater Park Township. Edgewater Park was an extension of Beverly's fashionable riverside residential district, with large homes on deep lots. Today the township's riverfront is still a private residential area. In 1924, the New Jersey legislature created Edgewater Park Township from Beverly Township by carving out a three square mile area extending from Route 130 to the Delaware River.
The excellent steamboat, railroad, and trolley connections, elegant riverside setting and spacious lots drew affluent residents to the Edgewater Park district in the late nineteenth century. One of the most prominent estate owners was General Edward Burd Grubb (1841-1913), a native of Burlington. Grubb commanded New Jersey regiments during the Civil War and was later appointed to West Point Military Academy's Board of Visitors. In 1890, he became U.S. Ambassador to Spain.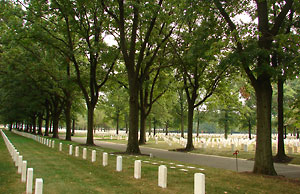 In 1864, the U.S. government established a national military cemetery in what is now Edgewater Park Township. The site was located near a temporary military convalescent hospital. The 65-acre cemetery contains nearly 50,000 graves, including those of four winners of the Medal of Honor, the nation's highest military award for valor. Beverly National Cemetery is listed in the National Register of Historic Places.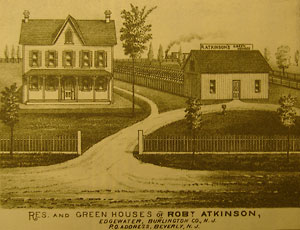 Edgewater Park's largest business was a rope factory, which operated for more than a century. Wall Rope Works became a national leader in the production of natural and later synthetic rope products. The factory complex included the longest commercial ropewalk (strand winding facility) in the world.
Edgewater Park Township has a population of around 7,900. The original Edgewater Park neighborhood between the railroad and Delaware River is still exclusively residential, but suburban and commercial development consumed the farmland and orchards on the township's eastern side after World War II. Willingboro, Delanco, and Burlington Townships, Beverly City and the Delaware River border the township.
For more information:
Banner art: An 1876 map of the Edgewater district of Beverly. From J.D. Scott's Combination Atlas Map of Burlington County, New Jersey. Credit: Special Collections and University Archives, Rutgers University Libraries