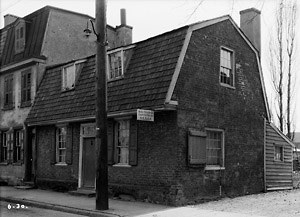 With an area less than four square miles and a population of around 10,000, this small municipality ranks as one of New Jersey's most historic towns. Until the seventeenth century, the Lenapi of the Delaware nation were the sole human inhabitants. Both Dutch and Swedish traders explored the area in the early 1600s. Burlington Island, a few hundred yards offshore, is the site of one of New Jersey's first European settlements. Walloons from present-day Belgium set up a trading post there in 1624. In 1655, the Dutch claimed the entire Delaware Valley, known to them as South River, as part of the New Netherland colony. The Delaware Valley was not of primary strategic or commercial interest, and Dutch settlement around present-day Burlington was limited to a few farms, a small garrison on Burlington Island, and a tavern at the river crossing.
England assumed control of these lands in 1664 and Burlington was one of the first real estate developments on the western frontier. The English crown granted ownership of the colony to Lord John Berkeley and Sir George Carteret who in 1676 divided their lands into two provinces, East and West Jersey. English Quakers had suffered religious persecution and imprisonment and were among the first to purchase lands in distant West Jersey for resettlement. Burlington's settlers were organized into two groups, the London and Yorkshire companies. In 1677, Quaker merchants, tradesmen, and farmers and their families began arriving. The new settlement was called New Beverly, then Bridlington and finally Burlington, after a village in Yorkshire. In the town plan, High Street marked the division of lands between the "London" and "Yorkshire" settlers. Early accounts state that trade with the Lenapi proved critical to the settlers' survival in what was then a wilderness.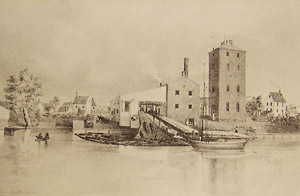 The Quaker settlement flourished. By 1682, Burlington was the capital of West Jersey, a market center, and an established port. Trading vessels sailed from here to the West Indies and the British isles. Early colonial maps underscore Burlington's economic importance, along with New York and Boston, as a port and shipbuilding center in the late seventeenth and early eighteenth centuries. A government customs house was located here for more than two hundred years. Timber yards, a pottery, a nail factory, cloth making, shipbuilding, and brick making were among the first industries. Burlington's first pharmacy was established in 1731 and is still in operation. Although Philadelphia surpassed Burlington as the major port of the Delaware River by the middle of the eighteenth century, the town remained a shipping and transportation hub. In 1788, the world's first commercial steamboat began making trips between Philadelphia and Burlington. One of the nation's first railroads, the Camden and Amboy, reached Burlington in 1834 and helped expand the local economy.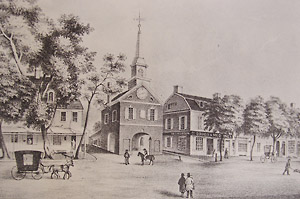 During the American Revolution, British naval vessels based in Philadelphia made occasional forays up the river and fired on the city in 1776 and 1778. Burlington is where the state of New Jersey was founded. The Provincial Congress of New Jersey met here on July 2, 1776, to declare the colony's independence from Britain and to adopt a new state constitution. Isaac Collins, one of America's most important early printers, published New Jersey's first newspaper, The New Jersey Gazette, in Burlington in 1777.
Burlington can claim an impressive number of civic, cultural, and religious institutions. Just a few years after it was founded, the town had an educational fund and printing press. In 1757, King George II chartered the Burlington Library Company, one of the nation's first public libraries. The Endeavor Fire Company, founded in 1795, is one of the oldest fire fighting organizations in the state. By the 1840s, when the population numbered around 3500, Burlington had three fire companies, several temperance and charitable aid societies, a hospital, lyceum, and seven churches, including New Jersey's oldest Episcopal church. There were two boarding schools, including a church-sponsored school for women, and several common or free schools — decades before free public education was widely available in New Jersey.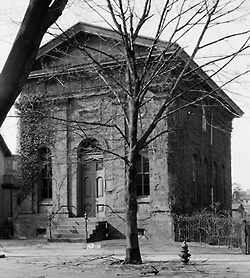 Many prominent Americans have called Burlington home. They include American statesman and philanthropist Elias Boudinot (1740–1821). Boudinot was a leading patriot during the American Revolution and the first President of Congress. He subsequently served as Director of the U.S. Mint and was also elected to the U.S. House of Representatives. In later life, he founded the influential American Bible Society. America's first novelist, James Fennimore Cooper (1789–1851) was born in Burlington, as was Captain James Lawrence (1781–1813), a naval hero who died during the War of 1812. Five U.S. Navy ships have been named in honor of Captain Lawrence. In 1797, local blacksmith Charles Newbold helped start a revolution in agriculture. He received the first U.S. patent for a cast-iron plow, which was designed to replace the massive and cumbersome wooden plows that were the standard of the time. While serving as Episcopal bishop of New Jersey, George Washington Doane founded two private academies for young women and men, St. Mary's Hall (1837) and Burlington College (1846). During the Civil War, General Ulysses Grant relocated his family to Burlington.
Although its importance as a commercial port and governmental center had waned by 1800, Burlington developed a diverse economic base over the next century. In addition to boatyards, factories here produced a range of products. They included shoes, patent medicine, hats, iron stoves and pipe, terra cotta, carriages, and canned fruits and vegetables which were shipped by water and rail to markets throughout the U.S. In the twentieth century, Burlington factories produced toys, dresses, and during wartime, munitions. The chief employer now is U.S. Pipe, which has been located here since the 1870s and is one of the largest pipe manufacturers in the U.S.
In the 1960s and 1970s buildings and docks along the waterfront were demolished for a public park and esplanade. Burlington's seventeenth-century grid plan is still visible and there are many buildings surviving from the eighteenth and nineteenth centuries. It has several historic districts and buildings listed individually in the State and National Registers of Historic Places.
For more information:
Banner art: John Collins, Views of the City of Burlington (1847). Credit: Special Collections and University Archives, Rutgers University Libraries