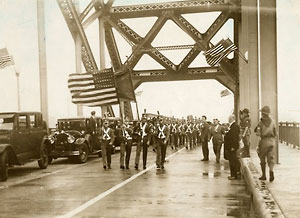 By the early 1920s, America's love affair with the automobile was already well established. There were nearly 350,000 registered vehicles in New Jersey in 1922 and the number grew dramatically each year. Despite the rapid increase in auto ownership, there were no bridges across the Delaware below Trenton and just two ferries, at Burlington and Camden. It was apparent that more river crossings were needed to accommodate all these new motorized vehicles.
Palmyra was midway between the two ferries and investors recognized an opportunity to make money. In 1922, a group of local businessmen started a car ferry business between Palmyra and the growing Tacony neighborhood of Philadelphia. The new ferry provided convenient connections to rail and trolley lines on the Pennsylvania side and to White Horse Pike and the New Jersey shore from northeast Philadelphia. New Jersey produce reached Philadelphia neighborhoods faster. The car ferry proved so popular that the number of vehicles often surpassed available capacity. In 1926, the spectacular Delaware River Port Authority Bridge (now the Benjamin Franklin Bridge) linking Philadelphia and Camden opened seven miles downriver. At the time, it was the longest suspension bridge in the world. Roads leading to the new bridge were soon overwhelmed. The Tacony-Palmyra car ferry investors decided to bet on the future of automotive transport and replace their ferries with a new toll bridge. They obtained government approvals and formed the Tacony-Palmyra Bridge Company to raise funds. The company hired Rudolph Modjeski, a famous Polish-born engineer, to design the bridge. Modjeski and his firm also designed the Manhattan Bridge (1909) and the Benjamin Franklin Bridge.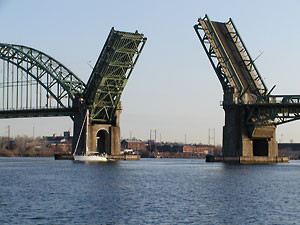 Construction began in February 1928 and the new bridge opened to traffic in August 1929, a mere 18 months and $4 million dollars later. The fare was 35 cents and an average of 3,500 cars a day made the trip; in five years the number of vehicles doubled. Today, approximately 70,000 vehicles per day use the bridge. These new Delaware bridges helped put highway development on a faster track, and soon forced government transportation departments to improve feeder roads.
The Tacony-Palmyra Bridge is a double bascule bridge, a type of drawbridge with counterweighted decks that pivot upwards to allow shipping to pass underneath. The bridge length is 3,659 feet; vertical clearance under the main span is 61 feet at high tide. The American Bridge Company of Trenton fabricated the bridge components. The bridge was privately owned and operated until 1948 when the Burlington Bridge Commission purchased it.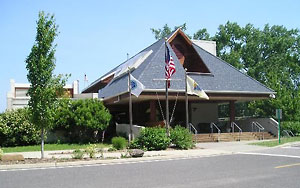 The Palmyra Cove Nature Park, a 250-acre wildlife preserve, is located adjacent to the bridge. The preserve's woodland, marsh, and tidal habitats are home to more than 200 bird species. There is an environmental discovery center on-site. The Burlington County Bridge Commission manages the preserve, which is open from dawn to dusk daily.
For more information:
Banner credit: Burlington County Bridge Commission