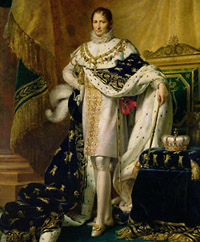 Bordentown was once home to an exiled king who built one of the most famous gardens in pre-Civil War America along the banks of the Delaware River. In 1815, after the final defeat of French Emperor Napoleon Bonaparte, his elder brother Joseph left Europe to make a new home in America. The next year Joseph Bonaparte purchased an estate at the edge of Bordentown village on the New York turnpike. Joseph Bonaparte (1768-1844) was a trusted advisor to his brother, who made him King of Naples in 1806 and King of Spain in 1808. During his years in America, Bonaparte used the title Count de Survilliers.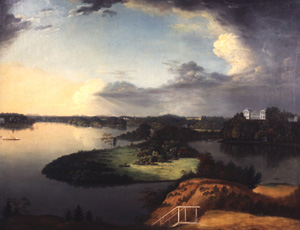 Joseph Bonaparte's land, located at the confluence of Crosswicks Creek and the Delaware River, had long been known as Point Breeze. The Bordentown location afforded easy river access to Philadelphia and proximity to major roads. Over the next twenty years, the estate grew to encompass more than 1,800 acres, with a mile of frontage along Crosswicks Creek. Bonaparte had a keen interest in garden design and transformed his lands into one of America's first "romantic" gardens in the French style. This picturesque style of landscape skillfully blended natural and manmade features to create pleasing vistas. Bonaparte and his gardeners planted large numbers of trees and flowering plants. Some were imported from Europe, along with European birds and game animals. The estate also incorporated native forest into twelve miles of bridle trails and carriage drives. Visitors were dazzled by the artfully placed statuary, gazebos, deer preserve, aviary, and large manmade lake with swans, landscaped islands, and fanciful boats.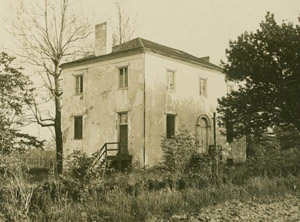 Bonaparte built a spacious, magnificently decorated home on a promontory with panoramic views of Crosswicks Creek and the Delaware River. The mansion's furnishings included the country's finest collection of European art and an 8,000-volume library that was the largest in America. The property was known locally as Bonaparte's Park; when fire engulfed the mansion in 1820, nearly all the contents were saved by townspeople who came to help. Bonaparte built his second manor house around the estate's brick stables, which were located away from the river near the turnpike to New York, or today's Park Street. In addition to the manor house, the estate included auxiliary buildings and housing for servants, farmers, and gardeners. Bonaparte built a three-story lake house for his younger daughter, Princess Zénaïde and her husband Prince Charles-Lucien Bonaparte, an accomplished ornithologist and naturalist.
Bonaparte's dream landscape was short-lived. He returned to Europe in 1839 and died in Italy in 1844; he is buried in state near his brother Napoleon at Les Invalides in Paris. He bequeathed Point Breeze to his grandson Joseph, who promptly sold the estate's lands and furnishings at auction. The new owner pulled down Bonaparte's manor house and in 1850 built a new home in the fashionable Italianate style. This house, which was lavishly remodeled in the early twentieth century, burned in the 1980s. The property is now owned by a Catholic missionary order. Only one building remains from the Bonaparte era. Point Breeze is listed in the National Register of Historic Places.
For more information:

Banner art: View of Bordentown, from the Gardens of the Count de Survillers. Credit: Special Collections and University Archives, Rutgers University Libraries