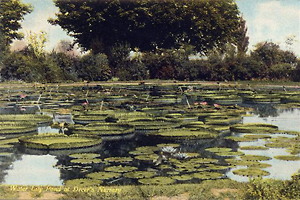 By the 1850s, new villages were springing up along the Delaware between Burlington and Camden. Riverton, just 15 miles upriver from Philadelphia, is one of the country's earliest and most prestigious "steamboat suburbs". Unlike neighboring towns that began as land speculation ventures, Riverton was a carefully planned residential community. Its founders were ten well-heeled Philadelphia merchants who wanted a quiet, cool retreat away from the heat, dust, and disease of Philadelphia summers, but one within commuting distance of their businesses.
The "founders" hired Samuel Sloan (1815-1884), one of America's most influential architects, builders, and publishers to design their village and some of its first homes. In 1852, they incorporated the Riverton Village Improvement Company, which used Sloan's ideal of bucolic suburbia to guide development of the village for the next 20 years. Deed restrictions ensured that the river embankment was maintained as green space for the enjoyment of all residents. The residential character of the village was sacrosanct. During these early years, commerce was kept to a bare minimum and no liquor was allowed to be made or sold.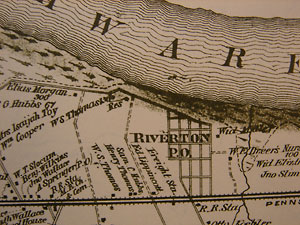 Gradually, Riverton attracted year-round residents who commuted by train or steamboat to jobs in Philadelphia. Sloan's core planning principles, however, were still evident in expansions in 1877 and 1900. Today, over half the structures in the village's nearly mile square area are listed in the National Register of Historic Places. The Riverton Historic District includes fine examples of residential styles popular in the late nineteenth and early twentieth centuries.
Riverton's sporting and social organizations include one of the nation's oldest yacht clubs and one of the state's first golf clubs. A women's civic group, the Porch Club, was instrumental in the creation of the New Jersey Parent Teacher Association (PTA) and the county's first kindergarten.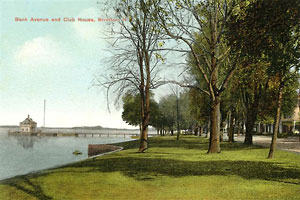 Some businesses did find their way to Riverton. Cultivation of ornamental trees and flowers was very popular in the mid-nineteenth century and the seed and nursery business expanded rapidly. In the 1870s, William Dreer moved his father's successful seed business from Philadelphia to a farm in Riverton. Dreer's Nurseries became Riverton's largest employer, and one of the nation's leading nurseries. At its peak, the firm operated 14 greenhouses and display gardens on a 245-acre site. Memorial Park, dedicated in 1931, was built on part of the Dreer property.
Riverton became a separate borough in 1893. With a population of around 2,600, the town retains much of its historic ambiance and small-town charm.